Introducing PassionLife Tiny Baby
Help Bring PassionLife Tiny Baby to Production
For the last 10 years, PassionLife has given out tens of thousands of fetal models every year as we train pastors and leaders in China, Vietnam, Romania, Cub, India and other places where abortion is especially concentrated. They are the world's littlest missionaries, proclaiming the humanity we all share.
This year, we worked to develop a new, science-based fetal model. We hope to have PassionLife Tiny Baby available by the end of the year.
Even as we tested out model prototypes, everyone who saw the Tiny Baby was awed by the meticulous detail depicted in its 9th week of human development. Without pause, people receiving Tiny Baby want to show it to a friend, a child, anyone standing nearby. These, in turn, want to hold it, marvel at its detail, and show it to still others.
Will YOU help us complete the project?
Expected shipping date: December 2022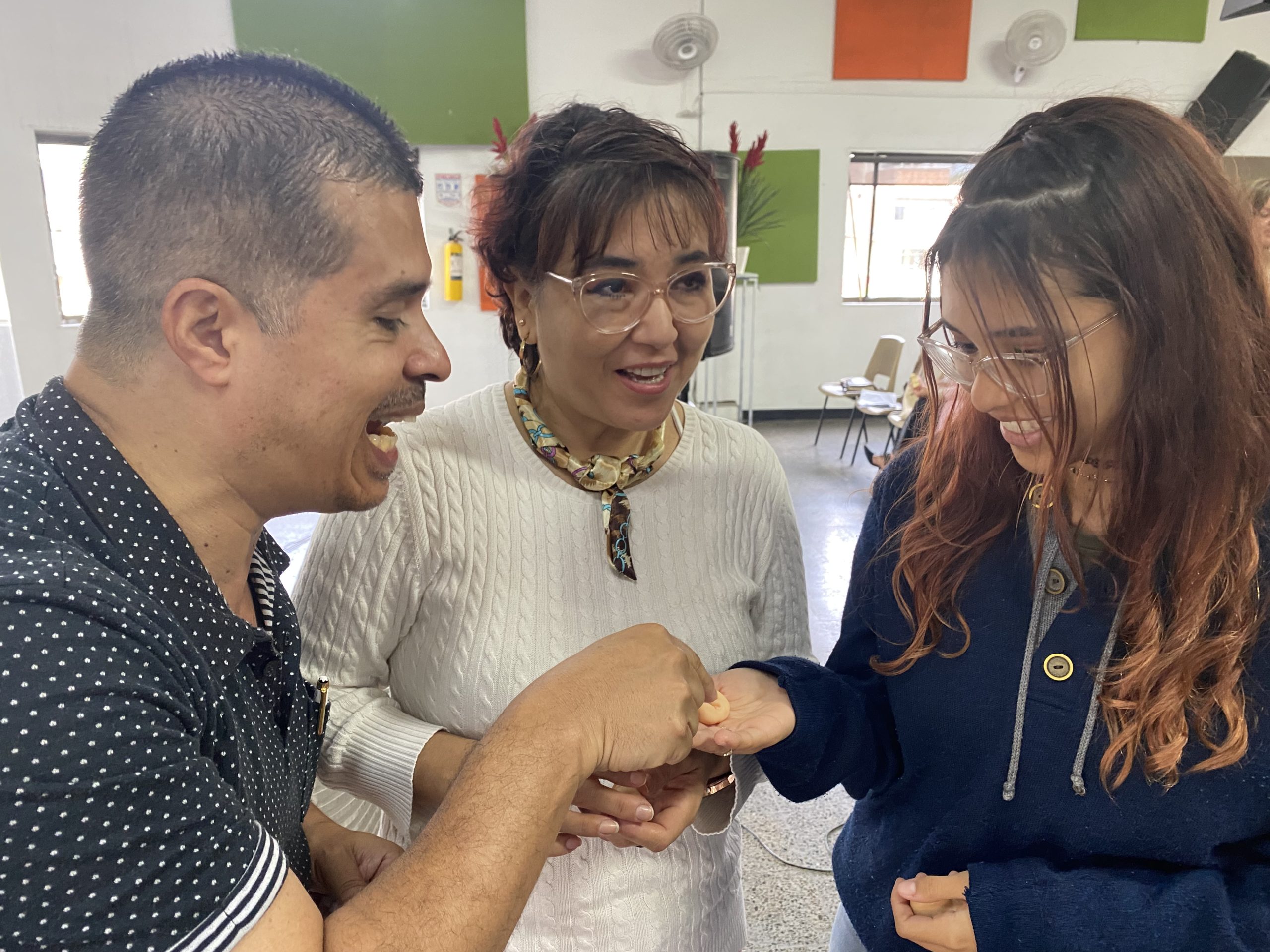 Scientifically Accurate, Wonderous in Detail
Tiny Baby is a uniquely designed and patented fetal model verified to measure at 9 weeks, 3 days gestation.
Tiny Baby's creation started with anatomical models created by 3D artists in consultation with medical professionals. Numerous design changes were made as Tiny Baby was evaluated by OB/GYN doctors and ultrasound technicians.
Final tests included inserting Tiny Baby into a sonographic gel and measuring using ultrasound. Tiny Baby measures at 9 weeks, 3 days gestation.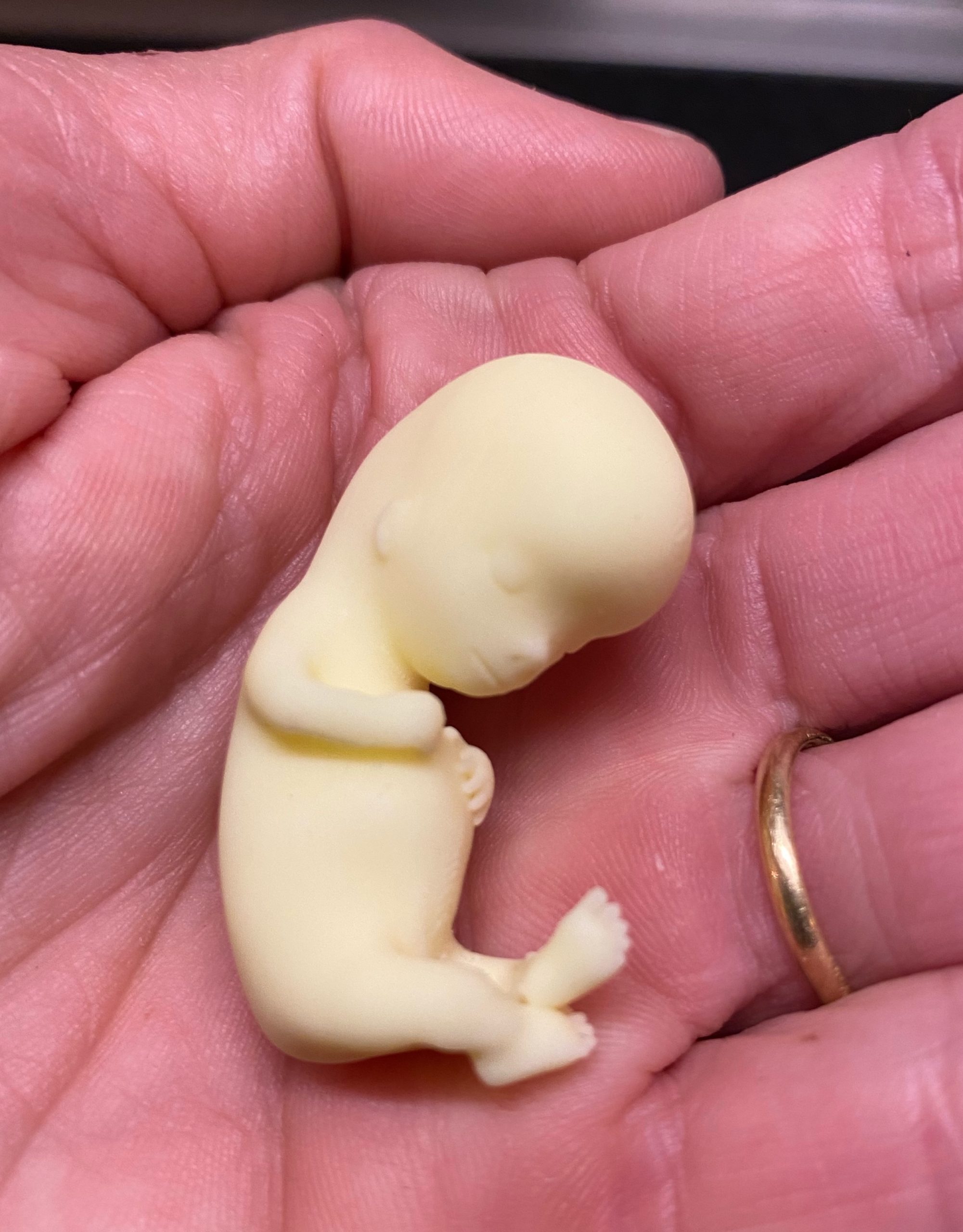 Improved Tool for Pregnancy Help Organizations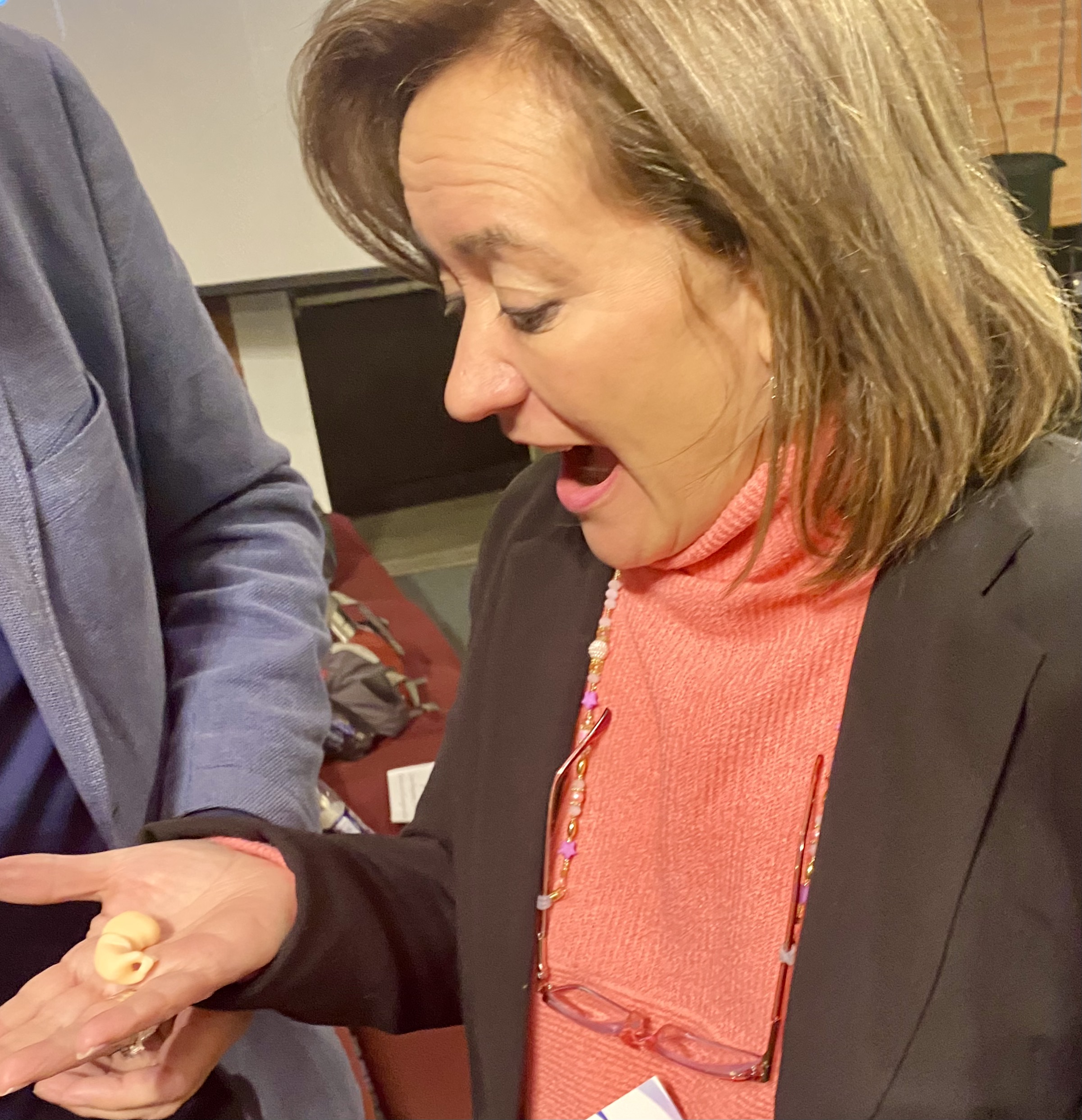 Traditionally, fetal models for mass distribution reflect 12-weeks gestation by size only. Tiny Baby represents a generational improvement in medical detail. It's closer in size to the gestational age of mothers seeking the services of a PHO.
In the 9th week:
All major organs like the heart, brain, kidneys, liver and lungs are forming.
Nose, mouth, and eyes are taking shape and outer ears are forming.
Tooth buds are developing under the gums.
Fingers and toes lose their web look and get longer.
The 4 chamber heart is fully functioning.
Bones and muscles are forming in the arms and legs, knees and elbows are already bending.
The baby is about 1-1.25 inches long.
Educate, counsel, and empower mothers to explain their choice for life, by sending them home with Tiny Baby.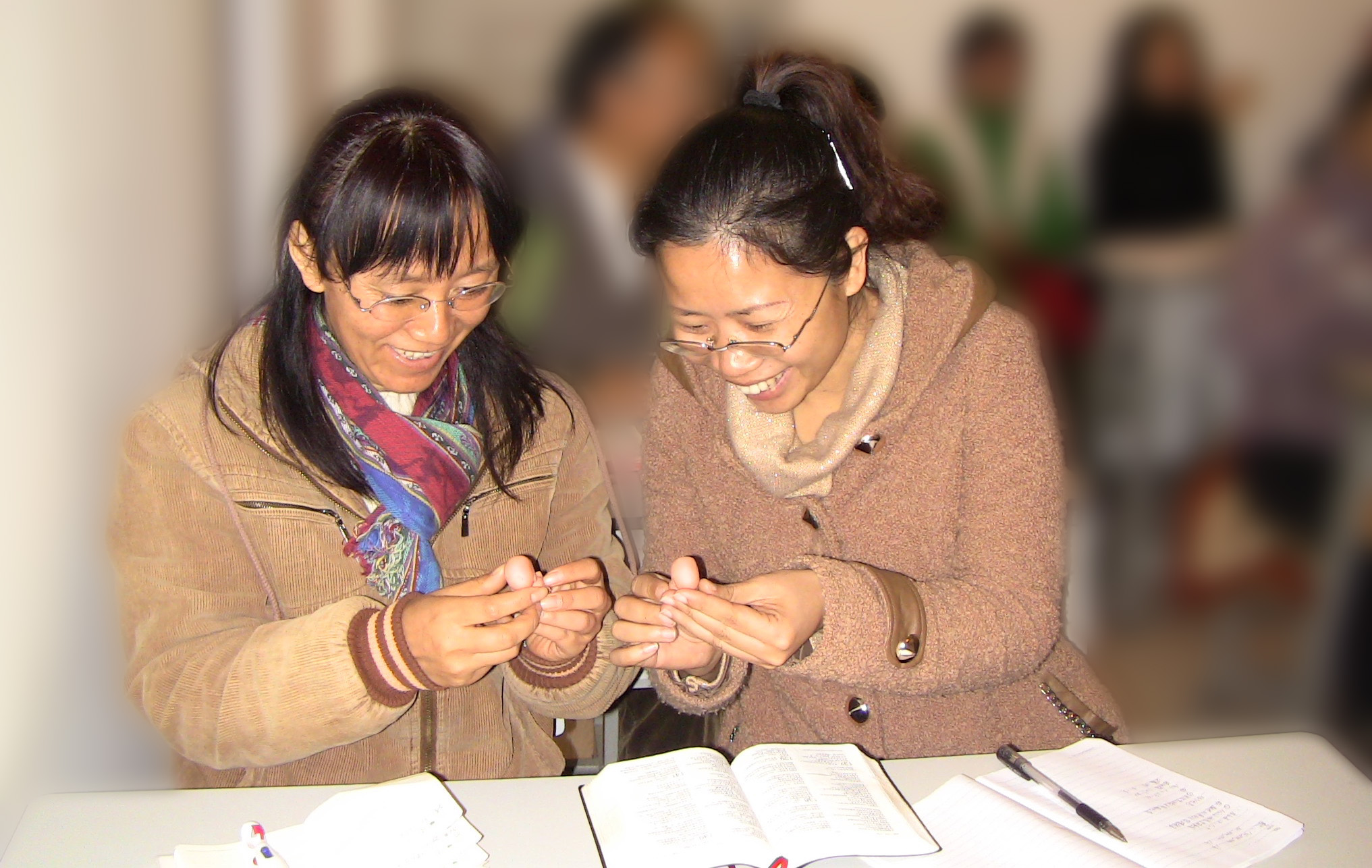 A Messenger of Our Humanity
David's first response to understanding his humanity from the womb was worship! "I praise you, for I am fearfully and wonderfully made" (Psalm 139:14).
Tiny Baby is designed to help you not just understand the truth of your humanity, but rejoice it in. From this understanding of God as Creator, comes the principle that human rights do not come from government (and cannot justly be taken away). They are endowed by your Creator, the moment you become human.
To that end, Tiny Baby is a winsome way for you to defend the principle of equal rights for all people, born and unborn, and will help you answer the call to "rescue those being taken away to death," (Prov 24:11).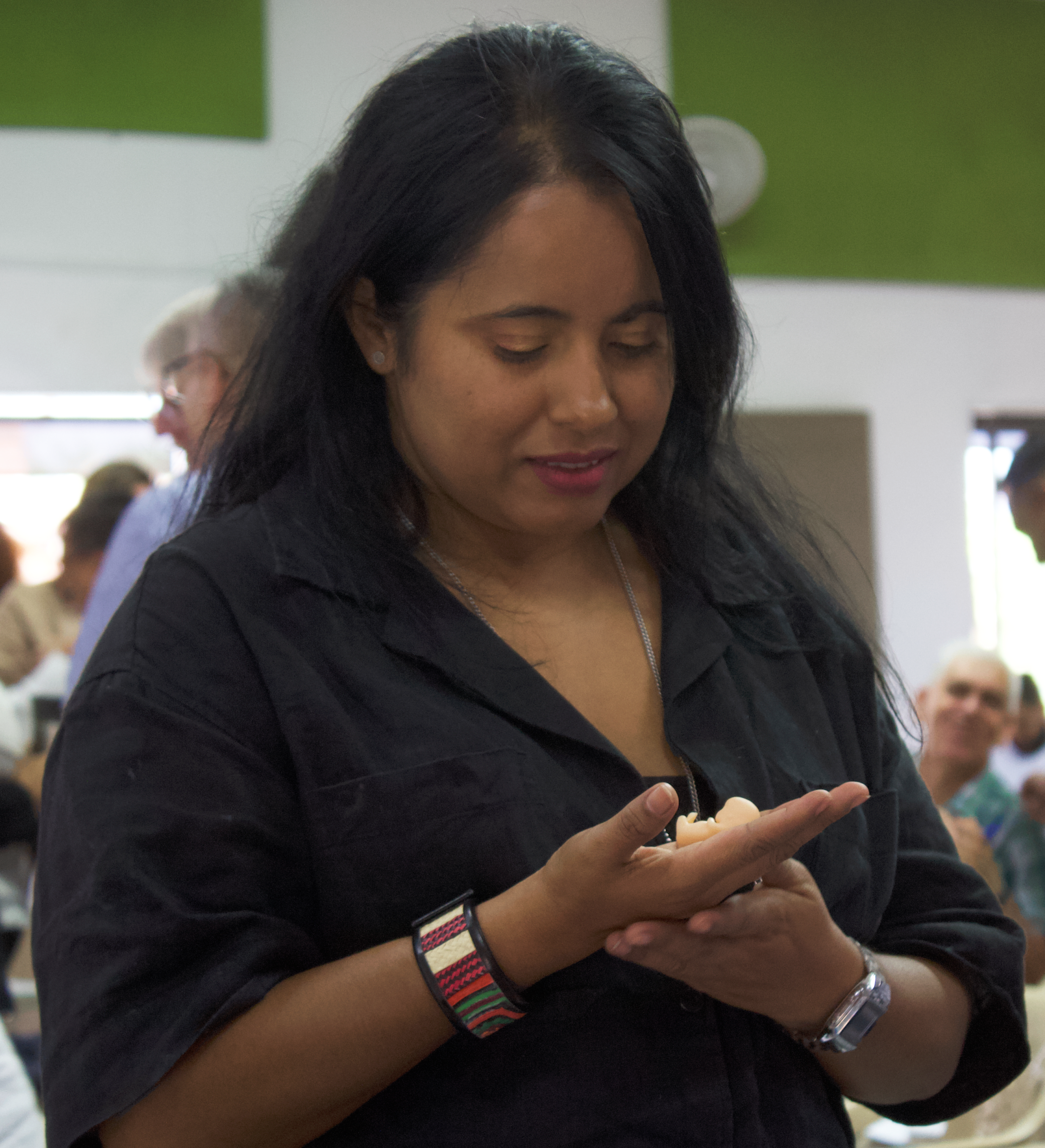 "Ever since the introduction of medical ultrasound, we have begun to know and better understand the person in the womb.  Now, with the development of an accurate 9th week fetal model, the PassionLife Tiny Baby, we can share more broadly and personally what that person looks like.
It is my hope that as the Tiny Baby finds its way into the hands of more people, hearts and minds can learn to love and protect the most vulnerable among us.  As a practicing obstetrician-gynecologist, I can attest that the Tiny Baby is a very accurate depiction of a 9th week fetus."
Lewis D. Lipscomb
M.D. – Obstetrician & Gynecologist
"PassionLife has created a tool for the Prolife movement to use in demonstrating the humanity of the living but not yet born human at the heart of the abortion controversy. When the child is no bigger than this model, he or she already has the organ systems in place that are needed for life after birth. They also already have fingerprints that are unique and which they will carry for their entire life.
The Prolife person can confidently use this model to promote awareness of the undeniable humanity of the living but not yet born human child."
Brent Boles
M.D.
"The first time I held and looked at the model, I felt a wave of awe and had to look closely to examine every detail. The accuracy of the features is stunning and reminds me of the photographic images taken in utero. The texture of the prototype was soft, so I was able to put it in a container to make a scannable 'model or phantom' by using a special gelatin solution. I measured the prototype using Crown Rump Length (CRL) just like I would an early pregnancy ultrasound.
I am very excited about this project and am looking forward to obtaining several models to use as I work with abortion minded women."
Linda K Gallagher
RDMS, OB/Gyn