My conversation with an abortionist
Today I would like to talk to you about a conversation I had with an abortionist. It took place some years ago, and I continue to pray for this doctor because I expect great things to happen in his life. Whenever you go into a meeting with someone like this, you really want to arm yourself and be ready to go. Firstly, I want to share with you the verses that I tried to equip myself with before I sat down with him for lunch. The first one comes from Proverbs 25:15. It says, "With patience a ruler may be persuaded, and a soft tongue will break a bone." I knew that this doctor would probably expect me to come in and be very aggressive, maybe in my words or my tone. In response to this idea of how I would approach the conversation, he was speaking from the moment he walked in and he would not stop talking. You could clearly see that he was nervous and I think he did not want to stop talking because he expected at that point for us to "jump in" on him. I was with several others at the time, including Jeanie Peria. After listening to the doctor for a few minutes and observing what was going on, I knew in my spirit that it would probably be best to begin our conversation with Jeanie's own personal testimony.
I motioned to Jeanie to go ahead and share her story. She was involved in the business of abortion. She had had an abortion in her own abortion clinic, and then later on came to know the Lord in His saving grace. We even saw her abortion business become the home of the Heartbeat of Miami Pregnancy Help Clinic. It is a great story. She shared how she felt about her efforts to help women and her belief in performing abortions to help women. She also confessed that there was a lot of money involved, and those motives get awfully mixed up in the mind. As I sat there, I continued to pray.
Here is another one of the verses that I think really helped us learn how to approach people on very emotional and complex things, "A soft answer turns away wrath, but a harsh word stirs up anger." I think one of the things that I have tried to demonstrate over the years, especially within the pro-life community, is that if you are going to talk to people then you definitely want to be honest with them. You also have to be winsome. You can not just stink up the place by the tone and the harshness of our words, because people will react without thinking through their argument. It is sort of like shining a light in someone's eyes. They will turn away. But if you shine the light down a dark pathway, people focus on the light and the direction it is pointed. That is the approach that I try to take in these conversations and I highly recommend it to you.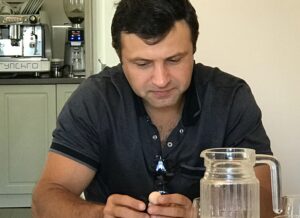 Here is a picture of the doctor that we sat down with, and here he is holding one of the fetal models that we distribute all over the world through Passion Life.
When it was my turn to speak, I wanted to tell him the reason behind my opposition to abortion comes down to this: abortion involves the intentional killing of an innocent human being. At just 12 weeks, you can see their head, arms, toes, and even their fingernails. Then, as if to confirm what I was saying, I showed him the two minute video that we use all over the world. It is graphic, it is difficult, but again, it shows the truth and the reality of abortion. This was something that he could not deny.
He just sat there very quietly and by this time he felt comfortable with us. He saw that we cared about him as a human being, that we treated him politely, that we were going to speak to him in a winsome way. When we were done with our almost three hour lunch, he said something to me that was a great encouragement. He said, "Whatever I can do to help you, help mothers choose life, I will do so." He was not quite ready to change his mind about whether he was going to stop doing abortions, but at least we had won him to respect what we do and why we do what we do. I hope someday to have a second lunch with this doctor. I hope someday this guy will work for me. That is the power of the gospel. It can change anyone's heart and life.
My encouragement to you is as Proverbs 15:4 says, "Remember a gentle tongue is a tree of life." That is what we want to be here at Passion Life be. We want to be the tree of life for people to reach out and join us in this great work of the gospel. God bless.
We need YOUR support! Partner with PassionLife:
Find out more about PassionLife: